Auto Hail Damage Repair Experts In Rowlett, TX!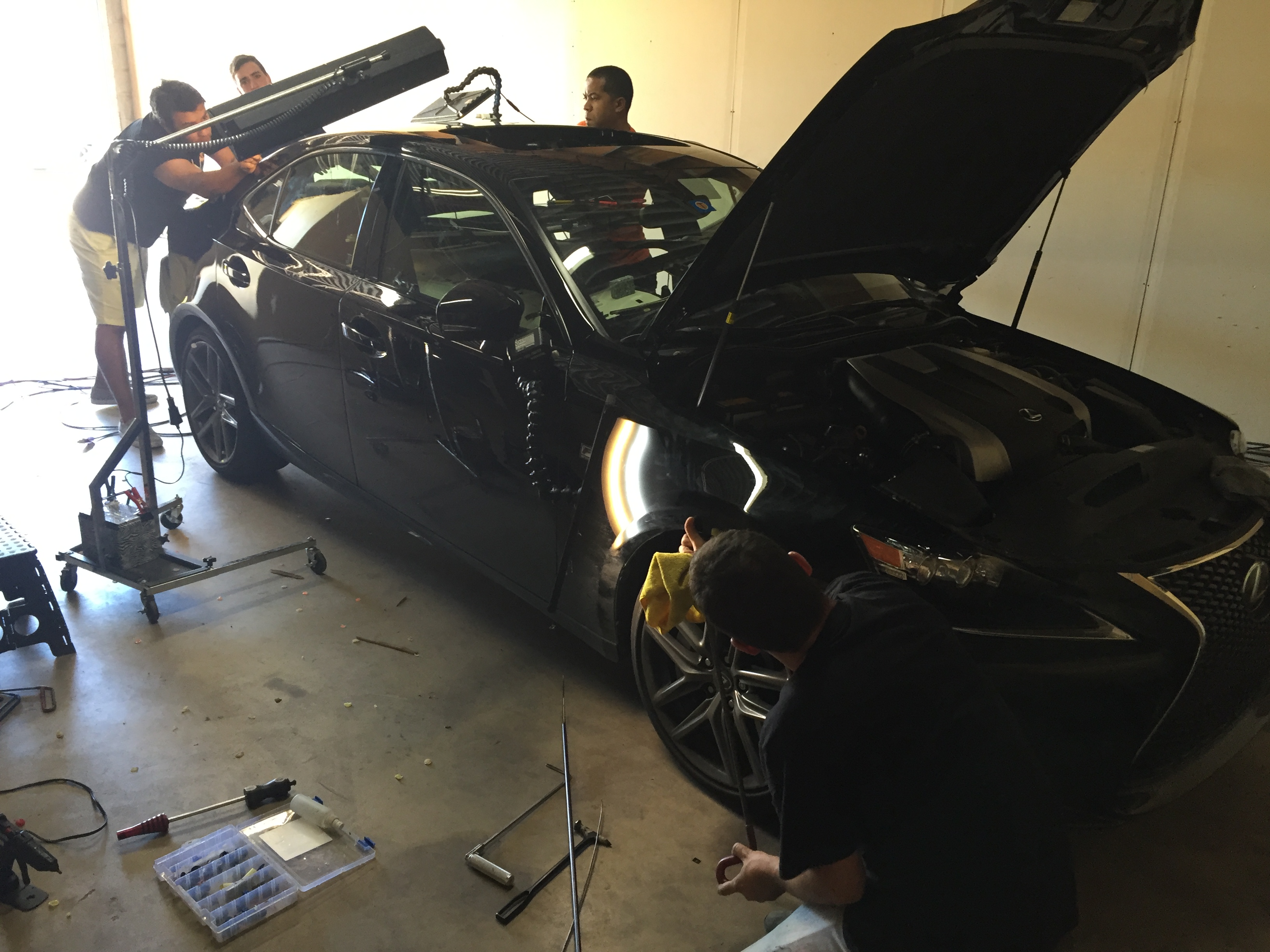 Our Auto Hail Repair shop in Rowlett, TX provides Hassle-Free Auto Hail Repair for all impacted vehicles in the Dallas-Fort Worth Metroplex.  If you live in Dallas, Mesquite, Garland, Rowlett, Rockwall, Wylie, Sachse, Murphy, Plano, Allen, McKinney, Frisco, Addison, Irving, Arlington, Richardson or surround areas, do yourself a favor and choose us for your Auto Hail Repair needs!  All we do is hail and we do it well!
The service technicians that we have are certified and highly experienced in all types of auto body services including Paintless Dent Repair, glass replacement, automotive painting, molding replacement and conventional paint and body repair methods. We can quickly replace damaged moldings, repair cracked paint, replace panels on the vehicle (ex. hood, roof, fender, trunk), replace broken glass and provide industry leading Paintless Dent Repair to all vehicles damaged in catastrophic hail storms.
We Take Great Pride In Being Able To Provide The Following Services To Repair Hail Damaged Vehicles:
* Paintless Dent Repair
* Glass Replacement
* Molding Replacement
* Panel Replacement (ex. hood, roof, fender, trunk)
* Conventional Paint & Body Repair
Hail Damage Repair
When it comes to inclement weather, your vehicle can suffer some severe damage. This is particularly true in the event of a hailstorm. The body of your vehicle and exterior moldings can become severely dented, the vehicle's paint can be cracked and the glass can be cracked or broken. Repairing the damage from hail can become rather expensive and a very long repair process, especially if you happen to take the vehicle to a company that does not specialize in hail damage repair. At Top Notch Image, we are professionals in repairing the damage done to your vehicle from a hailstorm. We utilize several insurance approved repair processes, that are used by those in our industry, to get your vehicle's appearance back to its original condition before the onslaught of the storm.
The Dent Repair Process
After a catastrophic hail storm damages your vehicle most vehicle owners find themselves overwhelmed, stressed and not sure of what to do. Once you discover that you have incurred hail damage on your vehicle you need to immediately contact your insurance company to start the claim and schedule an initial inspection by one of their representatives. Once the insurance company has inspected the damage and provided you with the corresponding insurance paperwork give us a call to arrange a time to drop off your vehicle for repair. When you drop off the vehicle we will need the insurance paperwork associated with the claim to ensure proper repair values were assessed and all damage was included. After taking in your car for repair we will compare the damage on the vehicle to the initial estimate completed by the insurance representative and notify the insurance company of missed items or undervalued repair items. Once the insurance approves any supplemental claims the repair process will begin. Once all items have been repaired your vehicle will be detailed and delivered back to you in pre-storm condition.
Why Is Paintless Dent Repair The Number One Choice In Hail Damage Repair?
There are several reasons why Paintless Dent Repair is the number one repair method that is preferred by insurance companies. Here are some reasons why insurance companies and vehicle owners prefer this method of hail damage repair to traditional paint & body methods.
The Many Advantages Of Paintless Dent Repair:
* Vehicle Retains Original Paint
* No Incorrect Color Matching
* No Body Filler Needed
* Repair Time is Minimal
* More Cost-Effective
* No Paint Overspray