Following a major hail storm, you can often buy hail-damaged cars at deep discounts. Before doing so, there are certain things you should know about how these automobiles are insured. Here is some information that will ensure you are not caught off guard.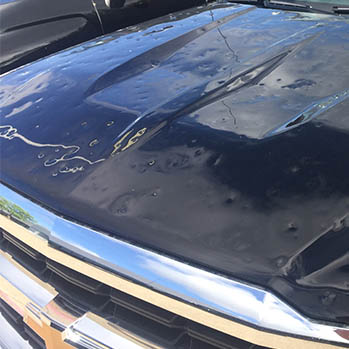 How Insurance Reporting Works
When an insurance company pays out a hail claim, it enters this information into a database that is then accessible by running a Carfax report. If you have a subsequent claim, adjusters will know that the vehicle had hail damage that was never repaired, and will deduct the amount they pay out as a result.
For example, let's say your vehicle had $2,500 worth of hail damage to the back end. Later, you are involved in a rear-end collision that results in $5,000 worth of damage to that area. The insurance would deduct the amount of previous damage, leaving you with only $2,500 minus any deductibles.
That's not all, as you may not receive any payout if you have additional hail damage. Some insurance companies will even refuse to provide full coverage insurance on a vehicle that has previous hail damage.
Good Deal or Not?
Whether or not your hail-damaged car is a great deal will depend on a number of factors, including:
Age and general condition of the vehicle
Amount of hail damage present
Purchase price
Make and model
Some dealerships may try to talk you into purchasing a hail-damaged vehicle by claiming you can fix dents and dings yourself. The truth is that there is no easy fix for hail damage, so you should not fall prey to this type of disinformation.
The only way to truly know the extent of repairs is to schedule an estimate with our shop. By fixing hail damage, you may once again qualify for full coverage insurance, and can prevent any deductions from future claims. Know what hail damage repair will cost before you shell out money for a new vehicle-contact us today.